3 areas of your marketing to optimize for higher conversion rates and how to do it
So you have traffic. And sales. Great job … but here's the bad news. Now you have to find an answer to the question:
"How do I keep growing my sales?"
The typical answer is get more traffic. Because more traffic will mean more sales. Well … maybe. But it is going to become progressively harder, and more expensive, to keep driving more traffic to your site.
Consider this situation. You've used google adwords to get traffic to your site, and found some cost effective search terms to bid for. Once they start to peak in terms of how much traffic they can deliver, you're going to need to move on to other search terms, which might be considerably more expensive.
Making more of your traffic
A smarter approach would be to get more out of the traffic you already have - more engagement from your social followers, more subscriptions from those who visit your site, more orders from your subscriber base, and more additional purchases from your existing customers.
And the way you do this is through CRO – conversion rate optimization. Today we're going to go through how to optimize 3 key aspects of your marketing so that they convert better. Here's what we'll cover:
1. Defining a conversion
2. Optimizing your conversion path
3. Optimizing your home page and landing pages
4. Optimizing your marketing campaigns
4. Testing
Defining a conversion
The first step in this process is to think carefully about what a conversion is. It may seem obvious – a conversion is a sale, right? – but it is actually more complex than that.
Depending on the stage of your store's development, your business model, and your values, you might define a conversion as:
A click through to your website
A certain amount of time spent on your site
A visit to a product page
An opt-in to one of your messaging channels
An item added to a cart
A purchase
A review after the purchase
A return purchase
In terms of your site, conversions are often considered in terms of a conversion funnel like this.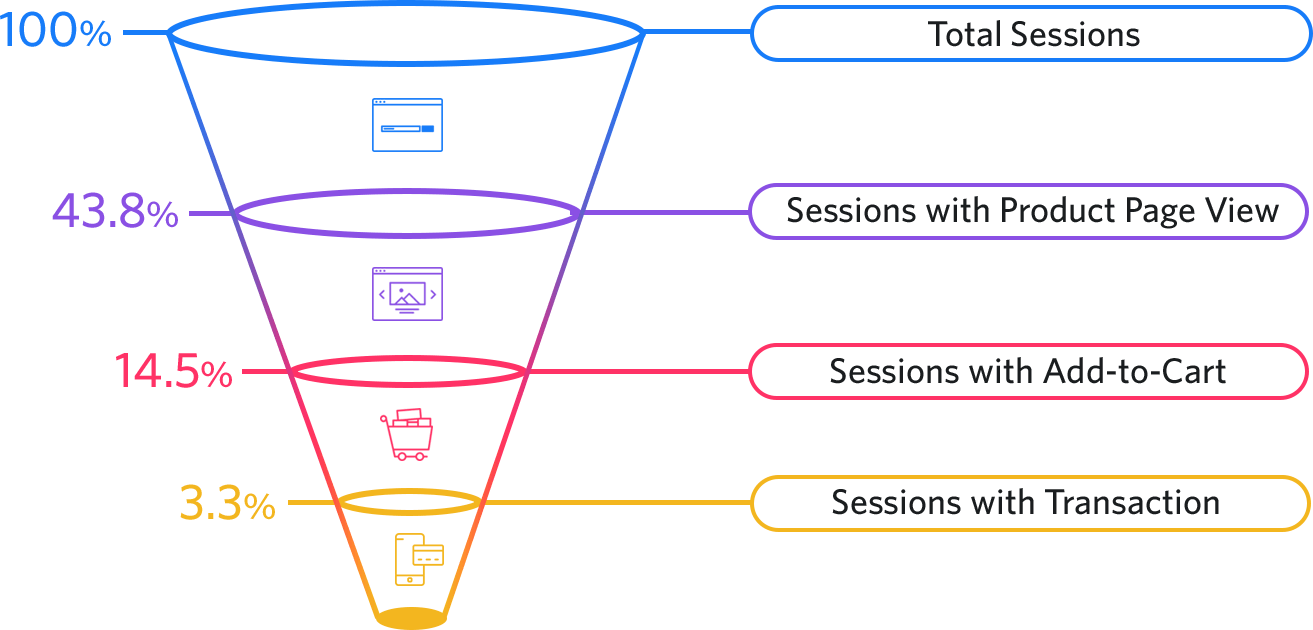 (Source: Smartinsights)
So there are plenty of conversions to choose from. And if you don't think carefully about which ones you are focused on, you may end up robbing Peter to pay Paul.
This can be an especially big problem in a large marketing team where everyone has different KPIs. They can all end up chasing their own conversions, whilst harming someone else's or the overall performance of you store.
Let's imagine a scenario. Your PPC specialist's KPI is more clicks from their campaigns. So they set up an ad campaign that gets loads of clicks because it over-promises. Your content manager, whose KPI is time spent on the website per visit, has created lots of detailed content designed to educate users. So when users from your ad campaign hit your site, they don't stay for long because the content doesn't match their expectations.
This kind of situation can occur at every stage of the customer journey – prioritising one conversion means sacrificing another.
The solution is to be clear on what conversion is most important to you. To do this you need to:
Understand you brand
Understand your audience
Understand where you are now
Clarify exactly what your priorities are: raising awareness, building your brand, boosting customer loyalty, increasing customer lifetime, becoming more profitable. Then select the right conversion or conversions to fit your business needs.
Once you've done this, you're ready to start optimizing.